United States District & Bankruptcy Court
Welcome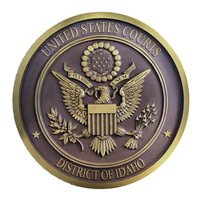 Clerk of Court Elizabeth A. Smith welcomes you to the U.S. District and Bankruptcy Court for the District of Idaho. We are one of 15 districts in the Ninth Circuit which spans 9 western states. Idaho is proud to be one of only four consolidated District and Bankruptcy Clerks' Offices within the federal judiciary.
The U.S. Courts for the District of Idaho was created with statehood in 1890. Our offices are located in Boise, Coeur d'Alene, Moscow and Pocatello.
We trust this website will give some insight into the functions of the U.S. Courts and how the Clerk's Office can better serve the people of the State of Idaho.

Change in Moscow Hearing Times Effective April 7th
Feb 04, 2015
Judge Myers' Moscow video calendar information has been updated. Please see the attached revised calendar.

Notice from the Clerk of 9th Circuit BAP
Feb 02, 2015
Please read the notice from the Clerk of 9th Circuit BAP regarding its policy change regarding excerpts of record.

Room Change for Meetings of Creditors in Moscow
Dec 09, 2014
As of January 1st, §341 meetings in Moscow will be held in Suite 204 of the Moscow meeting location at 220 East Fifth Street
Mission Statement
Mission Statement


The mission of the United States District and Bankruptcy Court for the District of Idaho is to provide an impartial and accessible forum for the just, timely and economical resolution of legal proceedings within the jurisdiction of the Courts, so as to preserve judicial independence, protect individual rights and liberties, and promote public trust and confidence.

Print Me