District Court General Information
Media Guide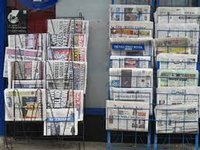 Basic information for journalists covering the Idaho court system is provided in the below links.
Media requests may be directed to the Clerk of Court, Stephen W. Kenyon, (208) 334-1373.
If you require a document from the case docket, please see our procedures on how to obtain case documents. Please note that the public does not have access to sealed documents.
The District of Idaho's General Order 254 provides information on wireless portable devices in the courtrooms.

U.S. Courts Media Information

Idaho Supreme Court
WiFi in Courtrooms
Information on free WiFi in courtrooms.

Print Me