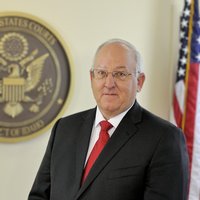 Chief Judge David C. Nye welcomes you to the U.S. District Court for the District of Idaho. In 1891
was appointed by President Harrison to become the first Federal Judge for the District of Idaho. We have a long and proud history rooted in our commitment to provide an impartial and accessible forum for the just, timely and economical resolution of legal proceedings within the jurisdiction of the Courts.
The District of Idaho has had 11
Judges appointed by the President of the United States, with two of them currently presiding. In addition to our two Article III Judges, we have two Magistrate Judges assisting with our busy workload.
Our judges hold court in Boise, Coeur d'Alene, and Pocatello.

The calendar updates as new information becomes available and is subject to change without notice. To schedule a hearing, contact the courtroom deputy.


New Court Teleconference System
Jan 18, 2022
Effective January 1, 2022, all federal court teleconference numbers transitioned to a new teleconference system. Please ensure you are dialing the most up to da

Idaho Issue of Western Legal History Published
Jan 10, 2022
The Idaho issue of the Western Legal History of the Ninth Judicial Circuit Historical Society is now available online.

Effectiveness of masks
Jan 07, 2022
A chart from a recent Wall Street Journal article regarding the effectiveness of masks.

GO 407 re Rev. Local Civil and Patent Rules
Jan 03, 2022
Adoption of Local Rules for Civil Practice 6.1 and 7.1 and Local Patent Rules.

GO 409 Extending CARES Act Provisions
Jan 03, 2022
Renewing GO 363 and extending CARES Act provisions in criminal proceedings by 90 days.

2022 Civics Contest Announced
Dec 17, 2021

Debora Kristensen Grasham Selected for Appointment
Dec 16, 2021
Debora Kristensen Grasham has been selected for appointment as the next U.S. Magistrate Judge for the District of Idaho.

GO 406 re CJA Peer Review Committee
Dec 16, 2021
General Order appointing the members of the CJA Peer Review Committee.

GO 405 re CVB Forfeiture Schedule
Dec 15, 2021
General Order and instructions for issuance and processing violation notices as to petty offenses/CVB bond forfeiture schedule.

Updated Appellate and Bankruptcy Rules and Forms
Dec 02, 2021
Please click here for the amended appellate and bankruptcy rules and new forms that became effective 12/1/2021.