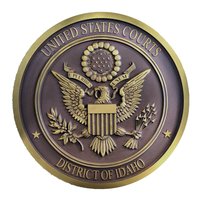 The District of Idaho Clerk of Court, Stephen W. Kenyon, welcomes you to the U.S. District and Bankruptcy Courts for the District of Idaho. We are one of 15 districts in the Ninth Circuit which spans 9 western states. Idaho is proud to be one of only six consolidated District and Bankruptcy Clerks' Offices within the federal judiciary.
The U.S. Courts for the District of Idaho was created with statehood in 1890. Our offices are located in Boise, Coeur d'Alene, and Pocatello.
We trust this website will give some insight into the functions of the U.S. Courts and how the Clerk's Office can better serve the people of the State of Idaho.

FBA Brown Bag CLE - Tuesday, July 28, 2020
Jul 09, 2020
Effective Virtual Litigation and Mediation During the Pandemic via ZOOM

New General Order 370 renewing General Order 363
Jun 25, 2020

Notice re Pocatello Office Closure
Jun 24, 2020
Pocatello Office Closure effective June 24, 2020.

U.S.Trustee Program Extends Video Conferencing
Jun 19, 2020
U.S. Trustees Office continuing with video/telephonic 341a meetings through October 10th.

Lawyer Representative Applications
Jun 16, 2020
The new lawyer representative will be selected from the 4th District. See attached for further information.

Notice re Bankruptcy Form Changes
Apr 20, 2020
Notice of Bankruptcy Form Changes effective April 1, 2020.

Filings Pursuant to Bail Reform Act
Apr 02, 2020
Procedure for Filings Made Pursuant to the Bail Reform Act in Response to Coronavirus (COVID-19) Pandemic
Mission Statement


The mission of the United States District and Bankruptcy Courts for the District of Idaho is to provide an impartial and accessible forum for the just, timely and economical resolution of legal proceedings within the jurisdiction of the Courts, so as to preserve judicial independence, protect individual rights and liberties, and promote public trust and confidence.