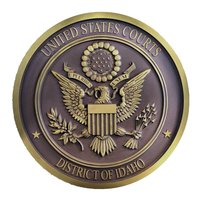 The District of Idaho Clerk of Court welcomes you to the U.S. District and Bankruptcy Courts for the District of Idaho. We are one of 15 districts in the Ninth Circuit which spans 9 western states. Idaho is proud to be one of only four consolidated District and Bankruptcy Clerks' Offices within the federal judiciary.
The U.S. Courts for the District of Idaho was created with statehood in 1890. Our offices are located in Boise, Coeur d'Alene, and Pocatello.
We trust this website will give some insight into the functions of the U.S. Courts and how the Clerk's Office can better serve the people of the State of Idaho.

The District of Idaho courthouses closed - Dec 25
Dec 11, 2018
The District of Idaho courthouses will be closed on Tuesday, December 25 in observance of Christmas.

First meeting of creditors scheduled 12/5 - Jerome
Dec 04, 2018

Federal Rules/Forms Amendments Effective 12/1/18
Nov 30, 2018

New Lawyer Representative DeAnne Casperson
Nov 01, 2018
DeAnne Casperson has been appointed as our new lawyer representative.

Updated Means Testing Data Effective Nov 1, 2018
Oct 19, 2018

2019 Civics Contest
Aug 28, 2018
The 4th Amendment in the 21st Century- What is an "Unreasonable Search and Seizure" in the Digital Age?

Proposed Amendments for Public Comment- Aug 2018
Aug 28, 2018
Public comment is sought for proposed amendments to appellate, bankruptcy, civil and evidence rules.
Mission Statement


The mission of the United States District and Bankruptcy Courts for the District of Idaho is to provide an impartial and accessible forum for the just, timely and economical resolution of legal proceedings within the jurisdiction of the Courts, so as to preserve judicial independence, protect individual rights and liberties, and promote public trust and confidence.