U.S. Magistrate Judge Raymond E. Patricco
Trial Procedures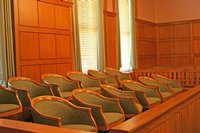 Setting a Trial Date: Plaintiff's counsel shall contact the Judge's courtroom deputy one week after the dispositive motion filing deadline expires to set a telephonic scheduling conference.
Pretrial Conference: The Judge will schedule a pretrial conference, to occur in person if court schedules permit, at least two weeks prior to the date of trial. At that time, the Court will discuss general trial practices and jury instructions.
Motions in Limine: It is anticipated that motions in limine will be argued at the pretrial conference, and if possible, decided.
Exhibits/Witness Lists: The Court expects the parties to confer prior to the pretrial conference to discuss issues related to the trial, such as stipulations regarding the admissibility of exhibits. Exhibit and witness lists are due two weeks prior to trial.

Exhibit List Instructions

Exhibit List Form

Exhibit List form - Word

Witness List Form

Email Jackie Hildebrand

Print Me