U.S. Magistrate Judge Candy W. Dale
Trial Procedures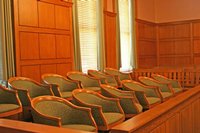 Setting a Trial Date: If the Judge's ruling on dispositive motions does not resolve the matter, the Judge will schedule a telephonic status conference shortly after all dispositive motions have been ruled upon for the purpose of setting a trial date and a pretrial conference.
Pretrial Conference: The Judge will schedule a pretrial conference, to occur in person if court schedules permit, at least two weeks prior to the date of trial. At that time, the Court will discuss its general trial preferences, jury instructions, and whether the parties would like to allow the jurors to ask questions of the witnesses.
Motions in Limine: It is anticipated that motions in limine will be argued at the pretrial conference, and if possible, decided.
Exhibits/Witness Lists: The Court expects the parties to confer prior to the pretrial conference to discuss issues related to the trial, such as stipulations regarding the admissibility of exhibits. Exhibit and witness lists are due two weeks prior to trial.

Trial Scheduling Order - CWD
Judge Dale's Trial Scheduling Order

Exhibit List Instructions

Exhibit List Form

Exhibit List form - Word

Witness List Form
Sunny Trumbull (208) 334-9327

Email Sunny Trumbull

Print Me