United States Bankruptcy Court
Welcome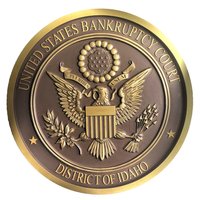 Welcome to the U.S. Bankruptcy Court for the District of Idaho.
We hope this website will provide useful information about the Court, its operations and its processes, and answer many of the questions you might have. Please let us know if you have suggestions to improve the site.
Below you can find the latest news from the Bankruptcy Court for the District of Idaho.

The calendar updates as new information becomes available and is subject to change without notice. To schedule a hearing, contact the courtroom deputies.


Proposed Dates for Chief Judge Terry L. Myers 2019
(Revised 10/24/18)

341(a) Meeting of Creditor Dates 2018

Proposed Dates for Judge Meier 2018

The District of Idaho courthouses closed - Nov 22
Nov 08, 2018
The District of Idaho courthouses will be closed on Thursday, November 22 in observance of Thanksgiving Day.

New Lawyer Representative DeAnne Casperson
Nov 01, 2018
DeAnne Casperson has been appointed as our new lawyer representative.

Updated Means Testing Data Effective Nov 1, 2018
Oct 19, 2018

2019 Civics Contest
Aug 28, 2018
The 4th Amendment in the 21st Century- What is an "Unreasonable Search and Seizure" in the Digital Age?

Proposed Amendments for Public Comment- Aug 2018
Aug 28, 2018
Public comment is sought for proposed amendments to appellate, bankruptcy, civil and evidence rules.

Boise Clerk's Office Construction Project
Jul 11, 2018
The Boise Clerk's Office will be relocating to the 5th floor on or about August 1.

Print Me