U.S. Magistrate Judge Candy W. Dale
Case Assignment
Updated on Jul 11, 2018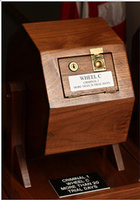 Judge Dale and Judge Bush each are randomly assigned the following cases: civil pro se cases; civil prisoner cases; and social security appeals. For all other civil cases, Judge Dale and Judge Bush together randomly receive approximately one-third of the civil cases. Civil matters require the consent of all parties who have appeared in the case for the matter to proceed before a magistrate judge.
In addition, Judge Dale and Judge Bush are each randomly assigned 50% of criminal class C misdemeanors and Petty Offense cases. Judge Dale and Judge Bush preside over criminal pretrial proceedings in felony cases, such as initial appearances, arraignments, detention hearings, and plea hearings.

Judge Dale's Chambers are in Boise. However, Judge Dale travels to the divisional offices on a regular basis. She appears in Pocatello the fourth full week of each month. Travel to Coeur d'Alene is as needed. Judge Dale's regular travel schedule may be dictated, however, by trial settings, hearings, or other matters, and is subject to change.

Print Me