United States District & Bankruptcy Courts
Media Information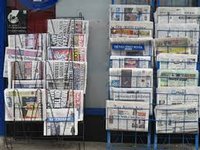 Basic information for journalists covering the Idaho court system is provided in the below links.
Media requests may be directed to the Court's Public Information Officer Kirsten Wilkinson, Chief Deputy of Operations, at (208) 334-9464.
The District of Idaho's General Order 254 provides information on wireless portable devices in the courtrooms.

U.S. Courts Media Information

Idaho Supreme Court
WiFi in Courtrooms
Information on free WiFi in courtrooms.

Latta, et al. v. Otter, et al.
Memorandum Decision and Order was issued in the case of Latta, et al. v. Otter, et al.

U.S. Department of Justice
Notice Regarding Debtor Audits

U.S. Marshal Service
Citizens of Idaho Continue to be Targets of Telephone Scammers

Print Me