This page you requested does not seem to exist or has moved. The Webmaster has been notified and we will get this sorted out pronto!
If you came here from a bookmark, please delete it and find the new destination using the Horizontal Menu above in conjunction with the Left Navigation for that section or try the search.
Please enjoy other areas of our site and have a great day!
United States District & Bankruptcy Courts
Welcome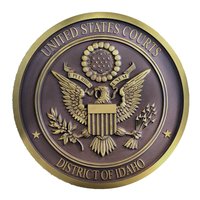 Clerk of Court Elizabeth A. Smith welcomes you to the U.S. District and Bankruptcy Courts for the District of Idaho. We are one of 15 districts in the Ninth Circuit which spans 9 western states. Idaho is proud to be one of only four consolidated District and Bankruptcy Clerks' Offices within the federal judiciary.
The U.S. Courts for the District of Idaho was created with statehood in 1890. Our offices are located in Boise, Coeur d'Alene, Moscow and Pocatello.
We trust this website will give some insight into the functions of the U.S. Courts and how the Clerk's Office can better serve the people of the State of Idaho.

Telephone Scammers Target Idaho Residents
Aug 23, 2016
Callers claiming to be a Deputy US Marshall falsely threaten with Federal Arrest Warrant.

District of Idaho Courthouses Closed - September 5
Aug 22, 2016
The District of Idaho Courthouses will be closed on September 5 in observance of Labor Day.
The Judicial Conference Advisory Committee on Rules of Practice and Procedure have proposed amendments to their respective rules.

Registration open for 2016 Bench Bar Conferences
Aug 10, 2016
The Idaho Chapter of the Federal Bar Association is hosting the 2016 Bench-Bar Conferences.

2016 Western All-Star Conference & Confabulation
Jul 07, 2016
"Game of Groans - Winning Strategies at Trial" - sponsored by Federal Defender Services Sept 15-16

First Independence Day for New Americans
Jul 01, 2016
22 individuals will celebrate their first Fourth of July as new Americans.

Public Comment Period for Federal Rule Amendments
Jul 01, 2016
The Judicial Conference Advisory Comm on Bankruptcy Rules has proposed amendments to FBR 3015 and adoption of a new FBR 3015.1.

Telephone Scammers Target Idaho Residents
Jun 27, 2016
The USAO has issued a press release regarding a trending scam wherein callers are impersonating USMS officials.

Tri-State FBA Conference October 13-15
May 23, 2016
The Tri-State Conference will be held in Sun Valley on October 13-15. Click on the link for registration info.


The mission of the United States District and Bankruptcy Courts for the District of Idaho is to provide an impartial and accessible forum for the just, timely and economical resolution of legal proceedings within the jurisdiction of the Courts, so as to preserve judicial independence, protect individual rights and liberties, and promote public trust and confidence.

Print Me