This page you requested does not seem to exist or has moved. The Webmaster has been notified and we will get this sorted out pronto!
If you came here from a bookmark, please delete it and find the new destination using the Horizontal Menu above in conjunction with the Left Navigation for that section or try the search.
Please enjoy other areas of our site and have a great day!
United States District & Bankruptcy Court
Welcome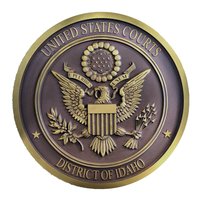 Clerk of Court Elizabeth A. Smith welcomes you to the U.S. District and Bankruptcy Court for the District of Idaho. We are one of 15 districts in the Ninth Circuit which spans 9 western states. Idaho is proud to be one of only four consolidated District and Bankruptcy Clerks' Offices within the federal judiciary.
The U.S. Courts for the District of Idaho was created with statehood in 1890. Our offices are located in Boise, Coeur d'Alene, Moscow and Pocatello.
We trust this website will give some insight into the functions of the U.S. Courts and how the Clerk's Office can better serve the people of the State of Idaho.

District of Idaho Courthouses - Closed January 1
Dec 25, 2014
The courthouses in Coeur d'Alene, Boise, Moscow and Pocatello will be CLOSED on Thursday, Jan 1.

Court Closures on December 26th
Dec 19, 2014
In accordance with General Order 286, the federal courthouses will be closed on December 26th.

Notice re: Moscow Intake Counter
Dec 17, 2014
Effective 1/12/15 the intake counter at the Moscow Divisional Office will no longer be regularly staffed by court personnel.


Room Change for Meetings of Creditors in Moscow
Dec 09, 2014
As of January 1st, §341 meetings in Moscow will be held in Suite 204 of the Moscow meeting location at 220 East Fifth Street

Bankruptcy Rules and Form Changes effective Dec 1
Nov 25, 2014
Please view for important updates to National Rule, Fee and Form changes which go into effect December 1, 2014.

Use of Social Media in Voir Dire
Oct 03, 2014
Materials presented by Brian Kane at the 2014 Federal Court Bench Bar Conference
Mission Statement
Mission Statement

The mission of the United States District and Bankruptcy Court for the District of Idaho is to provide an impartial and accessible forum for the just, timely and economical resolution of legal proceedings within the jurisdiction of the Courts, so as to preserve judicial independence, protect individual rights and liberties, and promote public trust and confidence.

Print Me