United States District & Bankruptcy Courts
Welcome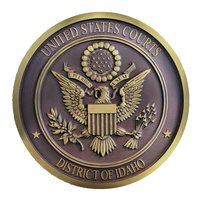 Clerk of Court Elizabeth A. Smith welcomes you to the U.S. District and Bankruptcy Courts for the District of Idaho. We are one of 15 districts in the Ninth Circuit which spans 9 western states. Idaho is proud to be one of only four consolidated District and Bankruptcy Clerks' Offices within the federal judiciary.
The U.S. Courts for the District of Idaho was created with statehood in 1890. Our offices are located in Boise, Coeur d'Alene, Moscow and Pocatello.
We trust this website will give some insight into the functions of the U.S. Courts and how the Clerk's Office can better serve the people of the State of Idaho.

District of Idaho Courthouses - Closed Sept 7
Sep 02, 2015
The District of Idaho Courthouses will be closed Monday, September 7 in observance of Labor Day.

Public Comment Period For Federal Rule Amendments
Aug 27, 2015
The Judicial Conference Advisory Committee on Bankruptcy and Evidence Rules have proposed amendments to their respective rules.

2015 Bench Bar Conference - Spokane - Sept 18
Aug 03, 2015
The first 2015 Bench Bar Conference is set for Friday, September 18, 2015 at the Spokane Convention Center in Spokane, WA.

Notice for Reappointment of Magistrate Judges
Jul 27, 2015
Press release for Notice of Reappointment of Incumbent United States Magistrate Judges Candy Wagahoff Dale and Ronald E. Bush.

2015 Annual Western All-Star Conference
Jul 07, 2015
Information regarding the 2015 Annual Western All-Star Conference & Confabulation - "Winning the Battle and Winning the War".


The mission of the United States District and Bankruptcy Courts for the District of Idaho is to provide an impartial and accessible forum for the just, timely and economical resolution of legal proceedings within the jurisdiction of the Courts, so as to preserve judicial independence, protect individual rights and liberties, and promote public trust and confidence.

Print Me