United States District & Bankruptcy Courts
Welcome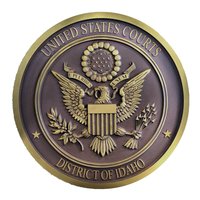 Clerk of Court Elizabeth A. Smith welcomes you to the U.S. District and Bankruptcy Courts for the District of Idaho. We are one of 15 districts in the Ninth Circuit which spans 9 western states. Idaho is proud to be one of only four consolidated District and Bankruptcy Clerks' Offices within the federal judiciary.
The U.S. Courts for the District of Idaho was created with statehood in 1890. Our offices are located in Boise, Coeur d'Alene, Moscow and Pocatello.
We trust this website will give some insight into the functions of the U.S. Courts and how the Clerk's Office can better serve the people of the State of Idaho.

Telephone Scammers Target Idaho Residents
Jun 27, 2016
The USAO has issued a press release regarding a trending scam wherein callers are impersonating USMS officials.

Proposed Updates to Civ Local Rules 16.4 and 83.4
Jun 25, 2016
The public is invited to provide comments on changes to Civil Local Rules 16.4 and 83.4. Comments are due by July 15, 2016.

District of Idaho Courthouses Closed - July 4
Jun 20, 2016
The District of Idaho Courthouses will be closed on July 4 in observance of Independence Day.

Telephone Jury Scam Targets Citizens of Idaho
Jun 20, 2016
A phone scam is being reported against individuals impersonating federal officials and requesting payment of fines via cash cards.

"Your Access to the Federal Bench"
Jun 15, 2016
Click here to read an article by the 2016 Lawyer Representatives describing their roles and opportunities.

Lawyer Representative Announcement
Jun 10, 2016
For interested members of the Idaho State Bar from the 1st or 2nd Districts.

Pro Bono Luncheon- 7/25/16
Jun 06, 2016
The Idaho Chapter of the FBA is sponsoring a Pro Bono Luncheon on 7/25/16 at the Boise Courthouse - 4th Floor Clerk's Office.

Notice re: Updated Misc Fees Effective June 1st
May 26, 2016
Fees regarding retrieval of documents from the Federal Records Center and CVB fines will be changing June 1st.

Winners of Local 2016 Civics Contest
May 26, 2016
Winners of the local 2016 Civics Contest have been announced. The first place winner moves on to the circuit level contest.

Tri-State FBA Conference October 13-15
May 23, 2016
The Tri-State Conference will be held in Sun Valley on October 13-15. Click on the link for registration info.

Updated Means Testing Data Effective May 1st
Apr 29, 2016
Updated Census Bureau Data applicable to cases filed on or after May 1, 2016 is now available on the US Trustee's website.

Notice Regarding Implementation of CourtSpeak
Mar 30, 2016
Important information for counsel and parties regarding Bankruptcy Court digital audio recordings.


The mission of the United States District and Bankruptcy Courts for the District of Idaho is to provide an impartial and accessible forum for the just, timely and economical resolution of legal proceedings within the jurisdiction of the Courts, so as to preserve judicial independence, protect individual rights and liberties, and promote public trust and confidence.

Print Me