Senior U.S. District Judge Edward J. Lodge
About Judge Lodge
Updated on Jan 19, 2023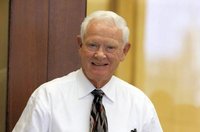 Judge Edward J. Lodge took inactive status on July 3, 2019. He began his distinguished judicial career in 1963 and is one of Idaho's longest serving judges when his state and federal judicial service is combined. Judge Lodge was sworn in as a licensed attorney in 1962. He began his public service as a judge when he was selected to serve as a Probate Judge in 1963. Two years later, he was appointed by the Governor as the youngest state District Court Judge in Idaho. He served as District and Administrative Judge for the Third Judicial District of Idaho for nearly 23 years. In January of 1988, he was chosen to be a United States Bankruptcy Judge for the District of Idaho.
In 1989, he was nominated by President George H. Bush to serve as a United States District Judge for the District of Idaho. Judge Lodge's nomination was confirmed and he began his tenure as a United States District Judge on December 1, 1989. Judge Lodge served as the Chief Judge for the District of Idaho from 1992 -1999. He was selected to serve on the Ninth Circuit Judicial Council and was elected as Chair of the Conference of Chief District Judges.
During his term as Chief Judge, the District underwent major changes and boasted many achievements. Judge Lodge's leadership was instrumental in any significant accomplishment within the District of Idaho. Some of these are listed below:
Completion of the Criminal Advisory Report for expense and delay reduction, chaired by Chief Judge Lodge.
Completion of the Civil Justice Reform Act for expense and delay reduction.
Support and leadership for the Gender Fairness Committee. Consolidation of court services between the District and Bankruptcy Courts which resulted in permanent cost savings.
Initiation of the State/Federal Judicial Council for sharing resources and policies between the Supreme Court and the Federal Court.
Initiation of the highly regarded District Conference, a continuing education program for Judges and Lawyers.
Initiation of ADR programs and the expanded use of Magistrate Judges in resolving civil proceedings.
Support and leadership of numerous automation initiatives such as imaging, creation of the Internet/Intranet, video conferencing, and evidence presentation equipment.
Completion of the Long Range Plan for the District of Idaho.
Oversight and leadership over major construction projects in Boise, Coeur d'Alene and Pocatello.
Judge Lodge has received numerous awards and recognition for his service to the judiciary and the state, including:
Being voted one of the state's best judges
First Trial Judge to be awarded the Kramer Award for Excellence in Judicial Administration
Receiving the Idaho State Bar's Professionalism Award in 1997
Recipient of the University of Idaho's "Idaho Award of Legal Merit" in 2000
In 2002, Judge Lodge was inducted into the Idaho Hall of Fame Association for his outstanding achievements in the Judiciary.
He received the Distinguished Lawyer Award in 2002 which is the highest award given by the Idaho State Bar Association for lifetime achievement by a lawyer who has distinguished the profession through exemplary conduct, unwavering commitment to the high ideals and years of dedicated service to the profession and citizens of Idaho.
Recipient of the College of Idaho's Life Achievement Award from the Half Century Society for outstanding professional accomplishments and service to the community in 2007.