What is the Criminal Justice Act (CJA)
Enactment of the CJA
Updated on Jan 10, 2019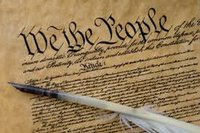 In accordance with the Sixth Amendment to the United States Constitution, the federal judiciary has historically appointed counsel in federal criminal proceedings for those unable to bear the cost of representation. Prior to the enactment of the Criminal Justice Act (CJA) of 1964, however, there was no authority to compensate appointed counsel for their services or litigation expenses.
The enactment of the CJA of 1964 and its subsequent amendment in 1970 established a comprehensive system for appointing and compensating lawyers to represent financially eligible defendants in federal criminal proceedings. The CJA of 1964 authorized payment of hourly compensation rates and reimbursement of reasonable out-of-pocket expenses for appointed lawyers. It also authorized payment of expert and investigative services necessary for an adequate defense. In 1970, the CJA was amended to authorize districts to establish Federal Public Defender Organizations (FPDOs) and Community Defender Organizations (CDOs) as additional options for providing defense counsel in those districts (or combinations of adjacent districts) where at least 200 persons annually require appointment of counsel.
Each district court, with the approval of the judicial council of the circuit, is required to have a plan for furnishing representation for any person financially unable to obtain adequate representation in a federal criminal case. Prior to approving the plan for a district, the judicial council of the circuit shall supplement the plan with provisions for representation on appeal.
About The CJA Panel
Updated on Jan 10, 2019
A person for whom counsel is appointed shall be represented at every stage of the proceedings from initial appearance through appeal, including ancillary matters appropriate to the proceedings.
At the outset of a capital case, as required by 18 USC § 3005, courts should appoint two attorneys, at least one of whom is experienced in and knowledgeable about the defense of death penalty cases. If necessary for adequate representation, more than two attorneys may be appointed to represent a defendant in a capital case.
For habeas corpus proceedings, a financially eligible person seeking to vacate or set aside a death sentence in proceedings under 28 USC § 2254 or 28 USC § 2255 is entitled, under 18 USC § 3599(a)(2), to appointment of one or more qualified attorneys.
Counsel providing representation under the plan shall be selected from a panel of attorneys designated or approved by the court, or from a bar association, legal aid agency or defender organization furnishing representation under the plan. The administration and management of the panel should be centralized in one organizational element (such as the clerk's office or, where appropriate, the federal defender organization) to ensure that counsel is appointed as expeditiously as possible, appointments are equitably distributed, and information on availability of counsel is maintained.

Notice Accepting Applications for CJA Panel
Note: These appointments will be for a two-year term. The deadline for accepting applications for the 2023-2024 panel is November 11, 2022.
Application and Appointment to the Panel
Updated on Sep 20, 2022

Attorneys wishing to apply should Complete the Application.
Applications shall be submitted by November 11, 2022 to be considered for the 2023-2024 Panel. Current members must update and resubmit their application to be considered for each new panel appointment term.
Panels
Under the District's CJA Plan, the District is divided into three separate panels: the Southern Division, the Northern/Central Division and the Eastern Division, maintaining a separate roster for each division. Each panel will be large enough to provide a sufficient number of experienced attorneys to handle the CJA caseload, yet small enough so that panel members will receive an adequate number of appointments to maintain their proficiency in federal criminal case defense work, and thereby provide a high quality of representation.
Qualifications
Panel members serve at the pleasure of the court. A panel member must meet the following minimum criteria:
Be a member in good standing of the Idaho State Bar and Federal Bar of this District
Have at least three (3) years experience as a practicing lawyer
Have demonstrated experience in, and knowledge of

the Federal Rules of Criminal Procedure;
the Federal Rules of Evidence; and
the Federal Sentencing Guidelines

Be a registered participant in the District's Electronic Case Filing (ECF) system and should be familiar with the ECF Procedures governing E-Filing in the District of Idaho
Have eight (8) hours of continuing legal education in criminal and constitutional law areas every two years
Appointments
A selection board will convene to review and consider each application. Once the panel has been determined, the judges will sign a general order appointing the new panel members and the Clerk's Office will notify the new panel members. Applicants not selected will be notified.
Appointments after the original panel is selected will occur only under exceptional circumstances and is at the discretion of the Judges.
The Clerk maintains the current list of all attorneys appointed to the CJA Panel. Appointments are made on a random, rotational basis, subject to the Court's discretion to make exceptions due to the nature and complexity of the case, an attorney's experience, and geographical considerations.
Ratio of Appointments
Where practical and cost effective, private attorneys from the CJA Panel shall be appointed in a substantial proportion of the cases in which the accused is determined to be financially eligible for representation under the CJA. "Substantial" shall usually be defined as approximately 25% of the appointments under the CJA annually throughout the District.
Substitution of Counsel
Counsel may only be substituted by an Order of the Court. If the Court appoints a panel attorney, the person so appointed -- not another attorney in the firm -- shall represent the defendant at all stages of the proceeding unless, upon petition to the court, a substitute appointment is granted. This policy applies to the out-of-court time expended for brief writing and research completed by the attorney, as well as all in-court appearances, though associate counsel may assist from time to time.
Appointed counsel is advised to first check with the Federal Defenders Office if they are available to appear on behalf of appointed counsel. If someone from the Federal Defenders Office is not available and in exceptional situations where the appearance is perfunctory and not substantive in any way, e.g. to plead not guilty to a superseding indictment, associate counsel may fill in provided that associate is a current member of the CJA Panel.
District of Idaho CJA Mentorship Program
In accordance with the District's CJA Plan, attorneys can also be selected for the CJA Mentorship Program. Applicants invited to participate in the mentorship program will be notified.

CJA Mentorship Program
General Order Appointing the Panel
Updated on Jun 06, 2023
After the selection board has convened and selected a panel, a General Order is signed appointing the new panel members.
General Order #426 appoints the current panel.
CJA PACER Account
Once you are appointed to the panel, you will need to contact PACER and request an exempt CJA account be set up for you to use when working on cases where you are CJA appointed counsel. This account is free of charge and may be used for CJA purposes only. Accessing cases that are not related to CJA responsibilities is strictly prohibited when using your CJA PACER account. You must enter your attorney login and password when researching anything other than your CJA cases.
Contact PACER Service Center
Updated on Jun 29, 2020
Public Access to Court Electronic Records (PACER) is an electronic public access service that allows users to obtain case and docket information from federal appellate, district and bankruptcy courts.
To obtain more information, please contact PACER via telephone at 1-800-676-6856 or by visiting the PACER website.
CJA Compensation Pay Rate
Updated on Jan 10, 2023

The hourly CJA panel attorney compensation rate is $164 for in-court and out-of-court time for non-capital work. This hourly rate applies to work performed on or after January 1, 2023. For additional information regarding CJA compensation, refer to the CJA Manual.
For work performed after January 1, 2023, the presumptive rate of compensation for counsel appointed to death penalty cases under 21 U.S.C. § 848(q) and 18 U.S.C. § 3006A(2)(B) shall be $210 per hour.
Panel Appointment Contact Information
For information or inquiries on Appointment to the Panel and Appointment to Cases, contact the CJA Panel Coordinators:
| Name | Phone | Email |
| --- | --- | --- |
| Kelly Montgomery | (208) 334-9028 | kelly_montgomery@id.uscourts.gov |
| | | |
| | | |

Email Kelly Montgomery