The United States District and Bankruptcy Courts for the District of Idaho as well as Probation and Pretrial announce operating with reduced staff. For full details and pro se email filing links, please visit the COVID-19 Information section of this website.
The District of Idaho is currently operating under a "Moderate Risk" level. Public access to the courthouses will be strictly limited to those individuals with specific business, e.g., those attending a hearing or visiting their probation officer. All individuals (unvaccinated and fully vaccinated), including staff, are required to wear a mask when in the public areas of the courthouses. Mask requirements for all in-court proceedings will be subject to the presiding judge's discretion.
Idaho Legal History Society
Welcome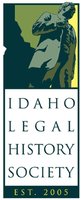 The Idaho Legal History Society (ILHS) was organized in 2005 by Chief Judge B. Lynn Winmill and then State District Judge and retired U.S. Magistrate Judge Ronald E. Bush, United States District Court, District of Idaho. Its founding members are Byron Johnson, former Idaho Supreme Court Justice; The Honorable Ronald J. Wilper, retired Fourth Judicial District, State of Idaho; Rita Ryan, Judith Austin, Tom McCabe, Boise attorney; Betty Richardson, former United States Attorney; Russ Heller, Boise Public Schools and Susie Boring-Headlee, Parsons, Behle & Latimer.
The group discovered that many people have been quietly preserving Idaho's legal history on their own, and many more wanted to be part of the effort. From these efforts, the ILHS was born.

Print Me