Mission Statement

The mission of the United States District and Bankruptcy Courts for the District of Idaho is to provide an impartial and accessible forum for the just, timely and economical resolution of legal proceedings within the jurisdiction of the Courts, so as to preserve judicial independence, protect individual rights and liberties, and promote public trust and confidence.
Why work for the District of Idaho
We care about a diverse group of people that are interested in ensuring equal justice under the law. With that shared interest in providing equal justice and our desire to focus on the well-being of our employees, we have created an efficient, cohesive, and productive team. The following is a brief over-view of our competitive compensation package:
Benefits
We offer a generous benefits package for qualifying positions, to include each of the following:
At least 13 days of paid annual leave, allowing employees to rollover a maximum of 240 hours each leave year

10 paid holidays

Health insurance benefit eligibility under the Federal Employee's Health Benefits Program (FEHB)

Life insurance benefit eligibility under the Federal Employees' Group Life Insurance Program (FEGLI)

Flexible Savings Accounts

Federal Employees' Group Long Term Disability Program (FEGLTD) eligibility

Long Term Care Insurance through the Federal Judiciary of the Office of Personnel Management (OPM).

Dental and Vision
Federal Employees Retirement System (FERS)
The Federal Employees Retirement System (FERS) is a retirement plan that provides benefits from three different sources: a Basic Benefit Plan, Social Security and the Thrift Savings Plan (TSP). Two of the three parts of FERS (Social Security and the TSP) can go with you to your next job if you leave the Federal Government before retirement. The Basic Benefit and Social Security parts of FERS require you to pay your share each pay period. Your agency withholds the cost of the Basic Benefit and Social Security from your pay as payroll deductions. Your agency pays its part too. Then, after you retire, you receive annuity payments each month for the rest of your life.*
Thrift Savings Program (TSP)
The TSP part of FERS is an account that your agency automatically sets up for you. Each pay period your agency deposits into your account amount equal to 1% of the basic pay you earn for the pay period. You can also make your own contributions to your TSP account and your agency will also make a matching contribution. These contributions are tax-deferred.*
*Information provided from http://www.opm.gov/retirement-services/fers-information/
Office Information
Boise, Idaho
The headquarters for the U.S. Courts in the District of Idaho is located in scenic Boise, Idaho. The City of Boise is part of a thriving metropolitan area of 650,000 people. Nestled in the Treasure Valley against majestic foothills, Boise is the largest metropolitan area in Idaho. Boise is a great place to live and raise a family. Whether it's the vibrant cultural and recreational opportunities, the friendly people or mild climate, Boise and the surrounding communities offer a quality of life second to none. Affordable housing, a safe, clean and vibrant downtown, and nearby recreational areas that offer opportunities for boating, camping, hiking and skiing, make Boise an ideal place to live.* For more information on Boise, please visit the www.visitidaho.org website.*

* Boise Metro Chamber of Commerce www.boisechamber.org
Boise Courthouse History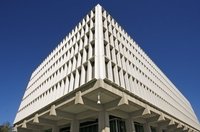 The James A. McClure Federal Building and U.S. Courthouse was built in 1966 to support the U.S. Courts and other Federal agencies. It continues to serve that purpose today. The location of this building is urban-unique as it is flanked by a historical residential neighborhood, nestled against the Boise foothills, and rests on 10.7 acres adjoining several park-like acres owned by the Veterans Administration.
This building has occupancy on 7 floors with the U.S. Courts occuping the 4th, 5th, and 6th floors. The building structure is supported by a framework of steel girders. The exterior facade is precast concrete and glass. Heating is accomplished with supplied Geothermal water, and air conditioning is supplied through the use of two 350 ton chillers with a free cooling loop added in 1999.
On Wednesday, December 12, 2001, President George W. Bush signed a law designating this building the "James A. McClure Federal Building and United States Courthouse". James A. McClure was a U.S. Senator from Idaho (1973-1991), a U.S. Congressman from the 1st District of Idaho (1967-1973), and an Idaho State Senator (1961-1966).
Coeur d'Alene, Idaho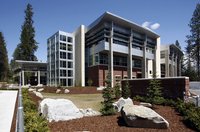 Coeur d'Alene is a special community and we enjoy an outstanding natural setting that people in most places only dream about. Our true, four-season climate provides unique beauty throughout the year. Set against the backdrop of what National Geographic calls, "One of the World's 10 Most Beautiful Lakes," Coeur d'Alene is surrounded by some of North America's most scenic country. Whether you enjoy the great outdoors for adventure or prefer world-class amenities in a friendly environment, Coeur d'Alene has the perfect option for you.
Even more than the exceptional beauty of the area, it is the people who have chosen to live here who make our community such a special place. It is their collective energy and vision that have created a quality of life second to none; one we are proud to enjoy. Coeur d'Alene residents enjoy the benefits of a wonderful standard of living with year round recreational and cultural events. Coeur d'Alene is the perfect place to do everything or nothing at all and we invite you to share it with us either as a full or part-time resident or visitor.*
*Coeur d'Alene Chamber of Commerce http://cdachamber.com/live-work-visit/
Pocatello, Idaho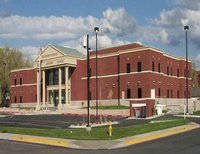 The city of Pocatello is located in southeast Idaho and nestled at 4,448 feet in the western foothills of the Rocky Mountains along the Oregon Trail.

Pocatello has an unusually desirable four-season climate where clear, sunny and dry is the norm.

The city has 32 parks, a Museum of Natural History, the Fort Hall Replica, Golf Courses, Swimming Complex, Bike & Hiking Trails, Pocatello Junction, Skate Park, and the Pocatello Zoo are just of few of the attractions visitors and residents enjoy.*
*Greater Pocatello Chamber of Commerce http://pocatelloidaho.com/