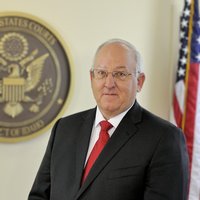 Chief Judge B. Lynn Winmill welcomes you to the U.S. District Court for the District of Idaho. In 1891
was appointed by President Harrison to become the first Federal Judge for the District of Idaho. We have a long and proud history rooted in our commitment to provide an impartial and accessible forum for the just, timely and economical resolution of legal proceedings within the jurisdiction of the Courts.
The District of Idaho has had 11
Judges appointed by the President of the United States, with two of them currently presiding. In addition to our two Article III Judges, we have three Magistrate Judges assisting with our busy workload.
Our judges hold court in Boise, Coeur d'Alene, and Pocatello.

The calendar updates as new information becomes available and is subject to change without notice. To schedule a hearing, contact the courtroom deputy.


The District of Idaho courthouses closed - July 4
Jun 20, 2018
The District of Idaho courthouses will be closed on Wednesday, July 4 in observance of Independence Day.

2019 Lawyer Representative - 6th & 7th Districts
Jun 19, 2018
News Release - The next Lawyer Representative will be appointed from the 6th and 7th Districts. Letters of interest due August 1.

2018 Civics Contest Finalists
Jun 12, 2018

Federal Rules changes set for Dec 1, 2018
May 31, 2018

Fee changes set for June 1st
May 31, 2018
Attorney admission and pro hac vice fees will increase to $250 effective June 1. Please see General Order #329.

MY FELLOW AMERICANS
May 24, 2018
Naturalization hearing in Pocatello sees 19 people become U.S. Citizens

Brown Bag CLE - Boise - July 17 at noon
May 21, 2018
Brown Bag CLE on Immigration in the Trump Administration to be held at the Idaho Supreme Court.

New Bankruptcy Judge Appointed
Feb 21, 2018
The Court of Appeals Appoints New Bankruptcy Judge for the District of Idaho