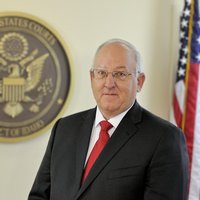 Chief Judge B. Lynn Winmill welcomes you to the U.S. District Court for the District of Idaho. In 1891
was appointed by President Harrison to become the first Federal Judge for the District of Idaho. We have a long and proud history rooted in our commitment to provide an impartial and accessible forum for the just, timely and economical resolution of legal proceedings within the jurisdiction of the Courts.
The District of Idaho has had 11
Judges appointed by the President of the United States, with two of them currently presiding. In addition to our two Article III Judges, we have three Magistrate Judges assisting with our busy workload.
Our judges hold court in Boise, Coeur d'Alene, and Pocatello.

The calendar updates as new information becomes available and is subject to change without notice. To schedule a hearing, contact the courtroom deputy.


The District of Idaho courthouses closed - Dec 25
Dec 11, 2018
The District of Idaho courthouses will be closed on Tuesday, December 25 in observance of Christmas.

First meeting of creditors scheduled 12/5 - Jerome
Dec 04, 2018

Federal Rules/Forms Amendments Effective 12/1/18
Nov 30, 2018

New Lawyer Representative DeAnne Casperson
Nov 01, 2018
DeAnne Casperson has been appointed as our new lawyer representative.

2019 Civics Contest
Aug 28, 2018
The 4th Amendment in the 21st Century- What is an "Unreasonable Search and Seizure" in the Digital Age?

Proposed Amendments for Public Comment- Aug 2018
Aug 28, 2018
Public comment is sought for proposed amendments to appellate, bankruptcy, civil and evidence rules.