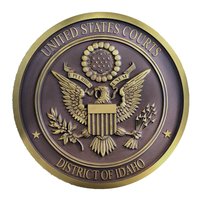 The District of Idaho Clerk of Court welcomes you to the U.S. District and Bankruptcy Courts for the District of Idaho. We are one of 15 districts in the Ninth Circuit which spans 9 western states. Idaho is proud to be one of only four consolidated District and Bankruptcy Clerks' Offices within the federal judiciary.
The U.S. Courts for the District of Idaho was created with statehood in 1890. Our offices are located in Boise, Coeur d'Alene, and Pocatello.
We trust this website will give some insight into the functions of the U.S. Courts and how the Clerk's Office can better serve the people of the State of Idaho.

Boise Clerk's Office Construction Project
Jul 11, 2018
The Boise Clerk's Office will be relocating to the 5th floor on or about August 1.

2018 All-Star Conference & Confabulation
Jun 29, 2018
Thursday, September 20: Capital Habeas Day; Friday, September 21: Trial Day

2019 Lawyer Representative - 6th & 7th Districts
Jun 19, 2018
News Release - The next Lawyer Representative will be appointed from the 6th and 7th Districts. Letters of interest due August 1.

2018 Civics Contest Finalists
Jun 12, 2018

Federal Rules changes set for Dec 1, 2018
May 31, 2018

Fee changes set for June 1st
May 31, 2018
Attorney admission and pro hac vice fees will increase to $250 effective June 1. Please see General Order #329.

MY FELLOW AMERICANS
May 24, 2018
Naturalization hearing in Pocatello sees 19 people become U.S. Citizens

New Bankruptcy Judge Appointed
Feb 21, 2018
The Court of Appeals Appoints New Bankruptcy Judge for the District of Idaho
Mission Statement

The mission of the United States District and Bankruptcy Courts for the District of Idaho is to provide an impartial and accessible forum for the just, timely and economical resolution of legal proceedings within the jurisdiction of the Courts, so as to preserve judicial independence, protect individual rights and liberties, and promote public trust and confidence.