U.S. District Judge Edward J. Lodge
Motion Practice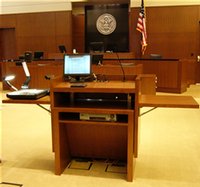 Hearings: Upon review of the briefing, the Judge will determine if a hearing is necessary in accordance with Local Rule 7.1. Judge Lodge typically does not hold hearings on civil motions, including dispositive motions.
Notice of Hearing: If the Judge determines a hearing is necessary, the Court will issue a notice of hearing. The parties do not need to contact the Court to schedule a hearing. (Dist. Idaho L. Rule 7.1)
Motions for Summary Judgment: The Court prefers only one (1) dispositive motion per side. If it becomes necessary, due to the complexity or numerosity of issues presented by some cases, and counsel is unable to address all issues within the 20 page limit for briefs, Dist. Idaho Loc. R. 7.1(b)(1), then it is appropriate to file a motion for permission to file an over-length brief, rather than filing separate dispositive motions for each issue counsel wishes to broach in an effort to avoid the twenty-page limit.
Cross Motions for Summary Judgment: To avoid the panoply of briefs generated by the filing of cross motions for summary judgment, the Court prefers that the briefing be combined as follows: initial motion for summary judgment; response combined with cross motion; reply combined with response to cross motion; and a final reply brief. If the parties are unable to address the issues in the 20 page limit, they may request permission to file an overlength brief.
Motions to Strike: Motions to strike filed in response to a motion for summary judgment are disfavored. Fed. R. Civ. P. 56(c) permits a responding party to object to evidence that material cited is not admissible. The objection functions like an objection at trial, and may be contained within the briefing or in a separate appendix. Counsel are discouraged from filing separate motions to strike, which prolongs the briefing upon summary judgment.

Email Sunny Trumbull

Print Me