United States District & Bankruptcy Courts
Welcome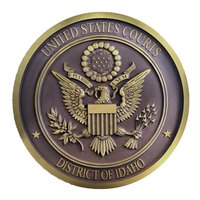 The District of Idaho Clerk of Court welcomes you to the U.S. District and Bankruptcy Courts for the District of Idaho. We are one of 15 districts in the Ninth Circuit which spans 9 western states. Idaho is proud to be one of only four consolidated District and Bankruptcy Clerks' Offices within the federal judiciary.
The U.S. Courts for the District of Idaho was created with statehood in 1890. Our offices are located in Boise, Coeur d'Alene, and Pocatello.
We trust this website will give some insight into the functions of the U.S. Courts and how the Clerk's Office can better serve the people of the State of Idaho.

Court Operations during Lapse in Appropriations
Jan 20, 2018
The District of Idaho will be open for business on Monday, January 22 at all Idaho courthouses. Please see GO #325.

New General Order #324
Jan 17, 2018
A new General Order has been entered which amends GO# 237 and District Local Civil Rule 73.1 regarding the consent process.

New Chapter 11 Quarterly Fees Effective 1/1/18
Dec 27, 2017
In accordance with the Bankruptcy Judgeship Act of 2017, Pub. L. No. 115-72, the ch 11 quarterly fee schedule has been amended.

New Region 18 Acting U.S. Trustee
Dec 27, 2017
Mr. Gregory M. Garvin has been appointed as the Acting U.S. Trustee for Region 18 effective 12/23/17.

Passing of the Honorable Larry M. Boyle
Nov 30, 2017


The mission of the United States District and Bankruptcy Courts for the District of Idaho is to provide an impartial and accessible forum for the just, timely and economical resolution of legal proceedings within the jurisdiction of the Courts, so as to preserve judicial independence, protect individual rights and liberties, and promote public trust and confidence.

Print Me