United States Bankruptcy Court
Welcome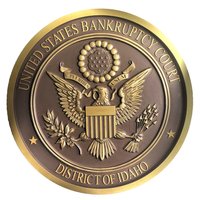 Welcome to the U.S. Bankruptcy Court for the District of Idaho.
We hope this website will provide useful information about the Court, its operations and its processes, and answer many of the questions you might have. Please let us know if you have suggestions to improve the site.
Below you can find the latest news from the Bankruptcy Court for the District of Idaho.

Circuit Librarian Vacancy Announcement
Apr 10, 2018
The Office of the Circuit Librarian is seeking a librarian for the Boise Branch Library

Hon. Jim D. Pappas featured in The Federal Lawyer
Apr 09, 2018
Please see the attached article on Bankruptcy Judge Jim D. Pappas which was featured in the March 2018 issue of The Federal Lawyer

New Attorney Admissions Process effective April 1
Apr 02, 2018

Updated Means Testing Data Effective April 1, 2018
Mar 15, 2018
Updated Census Bureau Data applicable to cases filed on or after April 1, 2018 is now available on the US Trustee's website.

Brown Bag CLE - Boise - May 23rd at noon
Mar 12, 2018
Commemorating the 150th Anniversary of the Passage of the 14th Amendment.

Term Law Clerk Vacancy Announcement
Feb 28, 2018
The District of Idaho is now accepting applications for a term law clerk to the Honorable Joseph M. Meier in Boise.

The Federal Lawyer - Featuring Judge Dale
Feb 23, 2018
The Honorable Candy Wagahoff Dale is featured in the January/February 2018 issue of The Federal Lawyer.

New Bankruptcy Judge Appointed
Feb 21, 2018
The Court of Appeals Appoints New Bankruptcy Judge for the District of Idaho

Print Me